---
MSI Board
---
| | |
| --- | --- |
| Howard R. Silverman | President |
| Henri Louis Goulet | Executive Director & Academic Dean |
| Krista J. Ball | Dean of Students |
| Dr. David J. Rudolph | Academic Consultant |
| Marcy G. Kotting | Member At-Large |
---
MSI Faculty & Staff
---

Henri Louis Goulet

Academic Dean, Executive Director, & Faculty

Henri's primary interests include the Biblical languages (specializing in Biblical Greek), the reciprocal relationship between the Tanakh and the New Covenant Scriptures, the study of the New Covenant Scriptures from the 'Within Judaism Perspective', the Jewish-Greco-Roman milieu of the New Covenant Scriptures, hermeneutics, the full Good News, the kingship/kingdom of God, the letters of Paul, ancient rhetoric, conceptual metaphor, and the Jewish Pseudepigrapha. He is a member of the SBL and the SPOSTST, and has served as an Adjunct Instructor of Biblical Greek and/or NT at the seminaries of Ashland and Capital Universities. Henri currently serves as the Academic Dean and Executive Director of MSI, as well as the Education Coordinator of Beth Messiah Congregation.

Ph.D. Studies, University of Cape Town, Biblical Studies, 2007–2010; S.T.M., Capital University (TLS), Biblical Studies, 2007; M.A., Ashland University (ATS), Biblical Studies, 2003; B.S., The Ohio State University, Pharmaceutical Sciences, 1984.

Greek I-V1, Intermediate Greek, Philippians in Greek & English, Keys to Bible Study I & II (Hermeneutics), Gospel of Matthew, Gospel of Mark, Gospel of John, Hebrews, James, Jude, Revelation, Jewish Heritage and Essence of the Faith, Jewish Apocalyptic Literature, One God-One Book-One Story, Introducing Women of the Bible, The Love of God, The Kingship of God, Experiencing the Glory of God, Early Hymns to Yeshua the Messiah, God's Election of Israel, Slaves of God & Messiah, Melchizedek: King of Shalem, Revelation: The Big Picture


Howard Silverman
President & Faculty

Howard's primary interests include the Hebrew Bible, Biblical studies, Rabbinic Literature, Jewish culture and tradition, and the Jewish essence of the New Covenant Scriptures and faith. He has been in full-time Jewish ministry since 1980, and has served as the Congregational Leader of Beth Messiah Congregation since 1991. Howard has been the President of MSI as well as a Board and Faculty member since its inception in 1994. He was the President of the UMJC from 2008–2012.

M.A., Messianic Jewish Theological Institute (MJTI), Jewish Studies, 2016; Graduate Studies, The Ohio State University, Near Eastern Languages and Cultures, 2000–2003; Advanced Studies Diploma, Moody Bible Institute, 1980; B.S., State University of New York (SUNY) at Buffalo, 1979.

The Torah: Genesis to Deuteronomy, The Prophets I: Joshua to 2 Kings, The Prophets II: Isaiah to Malachi, Writings: Psalms to Chronicles, Book of Deuteronomy, Book of Isaiah, Isaiah in the New Covenant Scriptures, Book of Daniel, Book of Jeremiah, Biblical Wisdom Literature, Book of Psalms, Book of Chronicles, Hebrew Liturgy, Rabbinic Literature, The History of Sukkot, Feast of Tabernacles: Framework for Understanding God's Presence among His People, The Jewish Heritage and Essence of the Faith, Great Jewish Thinkers: Martin Buber, Great Jewish Thinkers: Hillel, Great Jewish Thinkers: Theodor Herzl and David Ben-Gurion


Marcy Kotting

Faculty

Marcy has had a lifelong passion for Jewish worship and liturgy, and the Hebrew language that supports them, having been raised in Judaism. She has taught Hebrew for MSI since its inception, and has previously taught Hebrew for MJTI. She is also MSI's main instructor on the Jewish Holidays. Marcy has played an active role in several Messianic Jewish ministries including the Union of Messianic Jewish Congregations, the Association of Messianic Believers, and Chevra USA. Moreover, she is a longterm member of the MSI Board. Marcy is the Liturgist for Beth Messiah Congregation, where she also trains Bar and Bat Mitzvah students. She is currently a graduate student at Gordon-Conwell Theological Seminary studying for an MA in Biblical Languages.

M.C.R.P., The Ohio State University, 1983; B.A., The Ohio State University, 1980.

Hebrew I-V, Intermediate Hebrew, Jewish Holidays


Dr. Joel Willitts

Faculty

Dr. Willitts has been a professor in Biblical and Theological Studies at North Park University (Chicago, IL) since 2006. In addition, he has taught as an adjunct at Judson College (Elgin, IL), Wheaton College, Northern Seminary (Lombard, IL), and The Kings University (Dallas, TX) in their Messianic Jewish Studies Program. He is the author of Matthew's Messianic Shepherd-King: In Search of 'The Lost Sheep of the House of Israel' and The Kregel Pictorial Guide to the Dead Sea Scrolls, and has co-edited several works including Introduction to Messianic Judaism with David J. Rudolph. In all of his research and writings, Dr. Willitts approaches the New Covenant Scriptures as Jewish literature of the Second Temple Period showing the continuity between the two Testaments of Messianic Scripture. In addition to several chapter and article length studies, Dr. Willitts is currently working on three major projects: a monograph on the Epistle to the Galatians, a book length study of the story of the Bible as David's story, and a book length introduction to the Jewish Context of the New Testament for students.
Ph.D., Cambridge University, New Testament, 2007; M.Phil., Cambridge University, New Testament, 2002; Th.M., Dallas Theological Seminary, Old and New Testaments, 2001; B.S., Liberty University, Ministry, 1993.

Hearing Galatians Afresh in Its First-Century Context, God's Kingship on Earth: The Story of Israel's Davidic King from Genesis to Revelation


Chris Kotting

Faculty

Chris' primary area of research is Saul (Paul) of Tarsus and the Pauline writings, with an emphasis on how history, culture, politics, and literature influenced both the writer and his audience. Chris is a member of the Executive Committee of the Union of Messianic Believers, and serves as an Elder of Beth Messiah Congregation. He has also served the Union of Messianic Jewish Congregations on the Worship and Communications Committees. He also teaches at area churches on Messiah in the Passover and the Jewish Holiday Cycle.

B.A., The Ohio State University, 1985.

Book of Galatians, Book of Romans, Environment of the New Covenant Scriptures, Paul and the Law: Holy, Spiritual, & Good


Eric Chabot

Faculty

Eric's areas of interest are philosophy of religion, epistemology, the resurrection of Yeshua (Jesus), Jewish messianism, the relationship between Israel & the Church, apologetic systems, historical method, Biblical hermeneutics, the genre of the Gospels, and the relationship between science and theology. He leads an apologetics ministry at both the Ohio State University and Columbus State Community College. He has published numerous articles for Messianic Literature Outreach and is an Adjunct Instructor at Xenos Christian Fellowship.

M.A., Southern Evangelical Seminary, Religious Studies, 2010.

Messianic Apologetics, Asking Big Questions: Making the Case for Faith, The Messianic Promise, The Rising Tide of Christian Anti-Jewishness, The Jewish Context of Atonement and Resurrection, The Case for Zionism, Identity and Idolatry


Peter Knehans

Faculty

Peter's primary interests include the Hebrew language and Scriptures, apologetics, hermeneutics, interfaith dialogue, the Jewishness of the New Covenant Scriptures, and the Jewish heritage and essence of the faith. He has been profoundly captivated and impacted in particular by the divine presence of God from the perspective of the Tanakh, and its importance for the New Covenant Scriptures. He has served as a Minister (Illinois and Ohio), a Chaplain (San Antonio, TX), and a Student Director for Resort Ministries in four National Parks.

M. Div., Southwestern Baptist Theological Seminary, 1993; B.S., Life Sciences-Biology, Kansas State University, 1983.

God's Pursuit of Humanity I: Genesis to Chronicles, God's Pursuit of Humanity II: Matthew to Revelation, Book of Genesis, Salvation: From Moses to Messiah


Dr. Sam Meier
Faculty

Dr. Meier began teaching at the Ohio State University in 1986 in the Department of Near Eastern Languages and Cultures, and is the author of The Messenger in the Ancient Semitic World (1988), Speaking of Speaking: Marking Direct Discourse in Biblical Hebrew (1992), and Themes and Transformations in Old Testament Prophecy (2009). He also serves as Adjunct Professor of History, where he teaches the History of Ancient Israel. Among his many honors, he has been a guest at the Rockefeller Study and Conference Center in Bellagio (Italy), has been the Edwards Lecturer in Philosophy and Religion, and was recognized as the Bronfmann Distinguished Visiting Professor of Jewish Studies (College of William and Mary). Dr. Meier has received the Ohio State University Alumni Distinguished Teaching Award, as well as the Rodica C. Botoman Award for Outstanding Undergraduate Teaching and Mentoring. He is presently engaged in research in the Deuteronomistic History and prophecy in ancient Israel.

Ph.D., Harvard University, Hebrew & Semitic Languages and Literatures, 1987; Th.M., Dallas Theological Seminary, Old Testament and Semitics; B.A., UCLA, Ancient Near Eastern Civilization.

Book of Leviticus & Beyond, Book of Job, Israel's History Through Gentile Eyes, Introduction to the Septuagint, Sermon on the Mount, The Bible in the Qur'an


Krista J. Ball

Dean of Students

Krista became committed to lifelong learning while teaching young people in a variety of Bible study ministries. As she challenged her students to think deeply about what is really important in life, and encouraged them to critically examine their belief systems in accordance with Scripture, she searched for robust opportunities to become richly engaged in Biblical study and discovered what she refers to as the "gold mine of rich learning opportunities at MSI." She pursued studies in apologetics, the Biblical languages, and the Jewish essence of the faith, and continued to study until she completed both the Basic and Advanced Certificates of MSI in 2004. Krista was appointed Dean of Students in 2007 and serves on the MSI Board. She is active in Beth Messiah's Sisterhood where she has participated in teaching and educational programs since 2012. Krista was appointed to Beth Messiah's Board of Shamashim in 2013. She is a member of the congregation's Finance Committee and serves as its Treasurer.

M.S., The Ohio State University, 1987; B.S.N., Ohio University, 1981.


Valerie Berman

Registrar

Valerie is the Administrative Assistant of Beth Messiah Congregation and is well-known for her expertise in multitasking. She is a teacher in the Shabbat School and Hebrew School where her children are very active. Valerie and her son have taken Hebrew together at MSI. She also occasionally fills in as a singer on the Beth Messiah Worship Music Team where her husband Cliff is the drummer.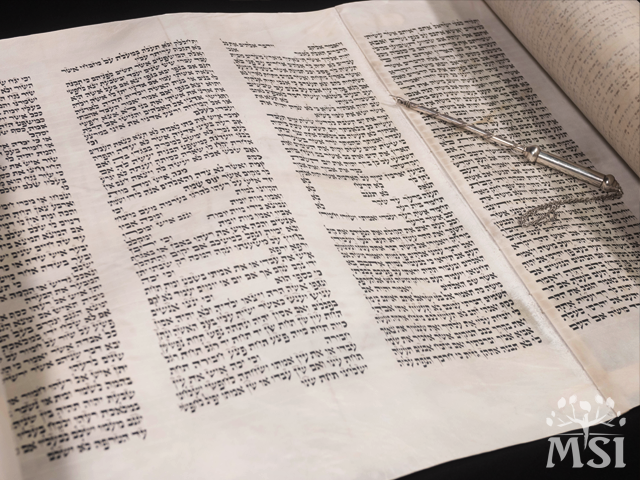 ---